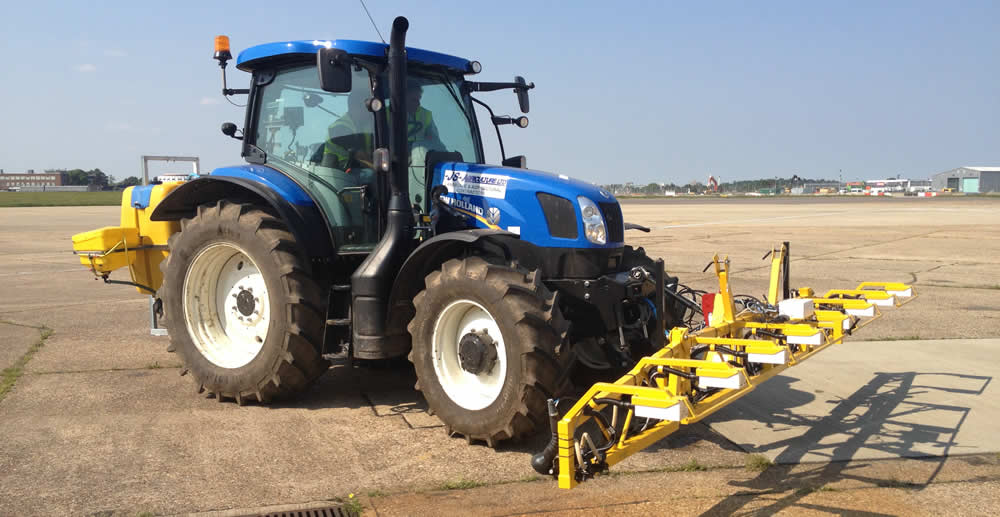 JSA would like to introduce the use of Weed IT to the benefit of its clients their sustainability targets and their own customers.
Weed-IT is a revolution in weed control application technology, developed specifically for the control of weeds on public footpaths and similar hard surface areas in urban situations. JSA has taken this idea one step further and after visits to Holland and in collaboration with the Dutch manufacturers, we have commissioned a bespoke machine for use at Airports and other large surface environments.
This is the only machine of its kind in the UK!
The £50K system consists of a shrouded spraying head mounted on the front of a purpose-built vehicle. Within the shrouded head are sensor units and spray nozzles. The sensor units detect the presence of weeds and trigger the appropriate spray nozzles to apply accurately the correct amount of herbicide just to those weeds and their immediate surroundings.
The result is very high levels of weed control coupled with greatly reduced herbicide use and increased safety to the operator and the public.
WEED-IT is a new spraying technology that actively detects live plant matter on-the-run. It is used to significantly reduce chemical application in grounds maintenance, airport and industrial sectors.
Rather than spraying an entire area that can have than 10% weed coverage, WEED-IT sensors are mounted to the spraying vehicle and can detect weeds up to 25km/h, only turning chemical on for a short moment when a target plant is detected
• Weeds are targeted accurately and controlled
• A reduction of 80% in herbicide use
• No off-target spray damage to grass verges, open-plan gardens and the like
• The system attracted no adverse comments from local residents and members of the public
• Improved productivity for one operator