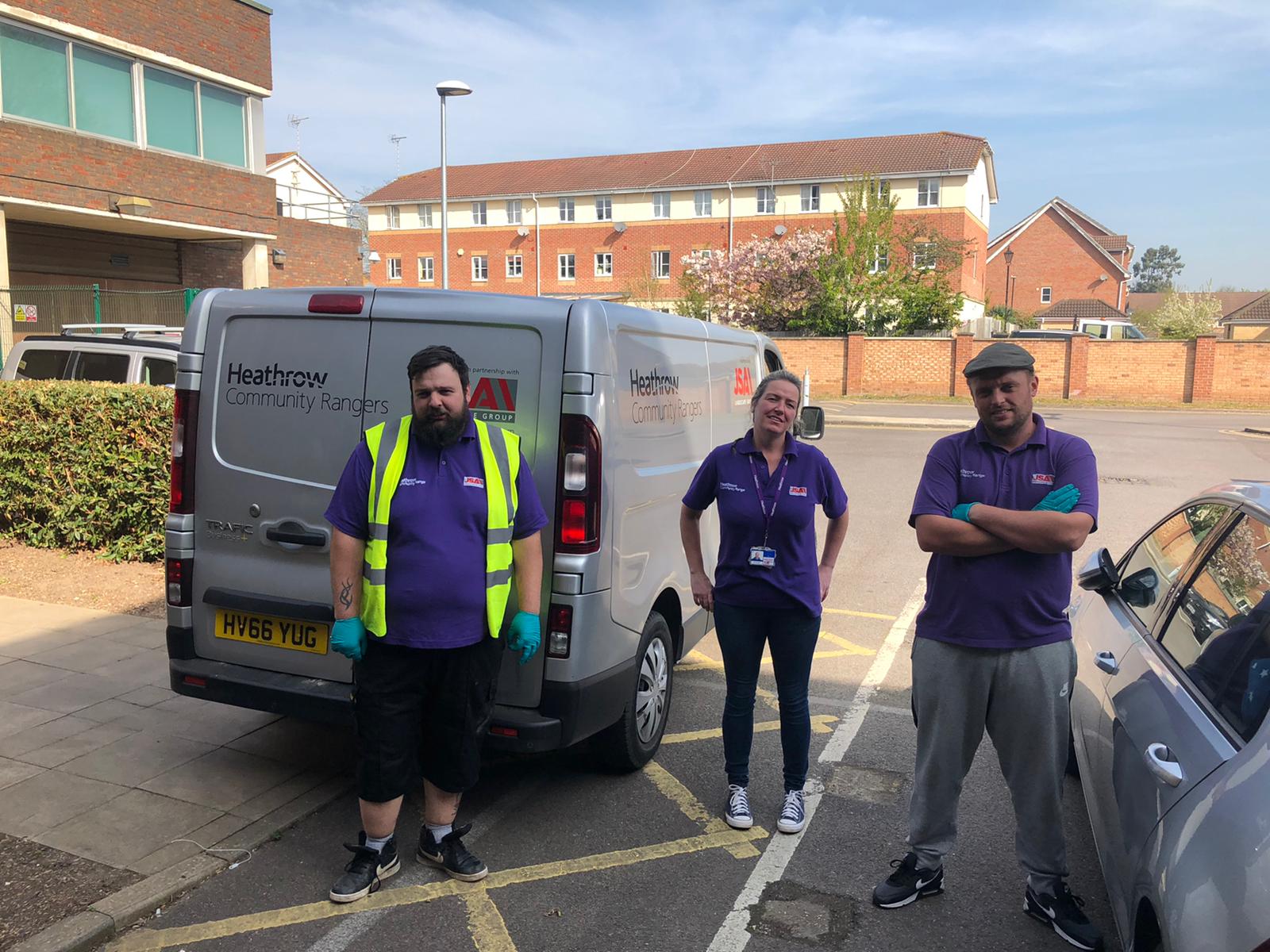 Over the past couple of months, a diverse range of individual volunteers, community groups and charities have worked together with the One Slough Community Response team to serve those in need one of which has been the Georgie Mechan's JSA Heathrow Community Rangers.
JSA's Daryl, Georgie and Lee from Heathrow Community Rangers have been working across Stanwell, Stanwell Moor and Colnbrook & Poyle, working with local people and partners to improve outdoor space and helping to maintain a tidy, safe and attractive environment since September last year.
Lee said, We've been working to help support the local community for nearly a year now, but nothing has brought us closer together as this crisis has done. I'm very proud to be working on such a great cause."
With the current COVID-19 crisis, they have been busy supporting the One Slough Community Response team transporting donated items to staff and patients at local hospitals and care homes. Among the items donated are PPE equipment, food items donated by Mars Wrigley and Mleczko and hand sanitiser produced by the Windsor & Eton Brewery.
Daryl said, "It's been great to be able to support such a worthy cause as a Heathrow Community Ranger for Slough CVS during this challenging time. Our mission is not done yet though. We will continue to work closely with our local partners to support them as much as possible, both during this crisis and when things get back to 'normal'.
 We have seen some positive things happen during these difficult times, one being working with existing resources and skillsets and re-deploying them. We will need to continue these partnerships to successfully meet the new 'normal' needs of our town.
Claire Giacobbe from the Slough Community Response Team said, "The biggest success has been a new partnership with the Heathrow JSA Community Rangers and how they have made collections and deliveries so easy, just getting on with the task in hand whilst having some fun too. I loved seeing the collection of 900 Easter Eggs and them getting the opportunity to visit Mars Wrigley Head Office. They also delivered 500 Easter Eggs to Wexham Park Hospital, all in a safe and professional manner