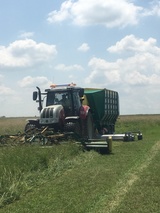 JSA sent 3 x pax to Vienna Airport on invitation from Trilo and the Austrian Airport Authority to view its vacuum system for the removal of grass debris after cutting from the airfield.
Vienna Airport consists of 500ha total of which 90ha along taxiway edges is maintained as a short grass policy (100mm) with the remaining 410ha maintained as a long grass policy (200mm) and as such it was an ideal opportunity to visit for the day to ascertain whether this technology could be adapted for UK Airport environments.
After catching an early morning flight we had a look at the machine off the Manoeuvring Area where the Engineering aspects of the machine were viewed in a safe environment. A demonstration then took place of the machine working on the airfield in conjunction with a front mounted flail system cutting long grass in damp conditions.
The system as viewed performed well with some impressive results (and video taken by JSA) to bring back home for future discussion and potential incorporation within both existing and future contracts.