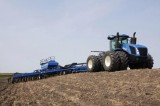 JS Agriculture Ltd were contacted at the end of the Summer by Stobart Air to carry out the reinstatement of the new runway extension to the 06/24 runway and taxiways at Southend Airport prior to the arrival of Easy jet at the start of 2012. The works involved a combination of day and night work over a protracted period working in conjunction with Stobart Rail who were carrying out the construction works. Levelling , discing, seed bed preparation and seeding were done prior to laying netting and battens where applicable adjacent to the runway/ taxiway edges . The works were competed in time for the first Easy Jet arrival and we await full germination of the seed prior to going back to the airport to lift the pins and battens.
At the time JS Agriculture also assisted the airport with an application of selective herbicide.
Stobart Air is operator of two complementary airport facilities located at Southend and Carlisle. The sites, which are already home to a number of successful commercial tenants, also represent attractive locations for subsidiary businesses and the development of both passenger and air freight services.