JSA Landscape has landed a new contract!!!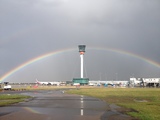 JSA Landscape Group has been appointed as the new Grounds Maintenance Contractor for Heathrow Airport. The contract is for 3 years and includes all Airside work as well as the landscape perimeter, Biodiversity Sites and the Twin Rivers. The site based Contract Manager, Michael Nowick, and his team of 18 on site staff will report to JSA Operations Manager Hilton Bartlett. Within the contract JSA are responsible for providing 3 Rangers to patrol the off-airport sites. JSA have added the UK's busiest airport to a growing list of airports and now maintain all three main London International Airports – Heathrow, Gatwick and London City as well as other office landscapes they maintain for Blue Chip Companies. Heathrow Airport, Maintenance Facilities Manager, Gary Rixon, said "We were impressed with the quality of the JSA tender submission and are delighted to be working with the team at Heathrow "
JSA Landscape has landed a new contract!!!
JSA Landscape Group has been appointed as the new Grounds Maintenance Contractor for Heathrow Airport. The contract is for 3 years and includes all Airside work as well as the landscape perimeter, Biodiversity Sites and the Twin Rivers. The site based Contract Manager, Michael Nowick, and his team of 18 on site staff will report to JSA Operations Manager Hilton Bartlett. Within the contract JSA are responsible for providing 3 Rangers to patrol the off-airport sites. JSA have added the UK's busiest airport to a growing list of airports and now maintain all three main London International Airports – Heathrow, Gatwick and London City as well as other office landscapes they maintain for Blue Chip Companies. Heathrow Airport, Maintenance Facilities Manager, Gary Rixon, said "We were impressed with the quality of the JSA tender submission and are delighted to be working with the team at Heathrow "