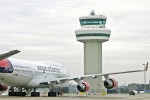 New Airport Contract for JS Agriculture Limited.
Exciting times ahead for JS Agriculture Ltd as they have been appointed as the new Grounds Maintenance Contractor for London Gatwick Airport.
Gatwick Airport Limited operates the busiest single runway airport in the world. Approximately 35.2 million passengers fly to and from, or transfer through the airport annually.
John Straka (Managing Director) said "It is a real step up for JS Agriculture Limited after working at so many UK, Civil and Military Airports as a 2nd tier contractor we now have the opportunity to demonstrate our ability. We have all the plant machinery and equipment ready to go and our quality processes are such that it will be a seamless transfer of service at the Airport. We look forward to starting on site on Monday 3rd October". Philip Tidbury Senior Commercial Facilities Manager at London Gatwick Airport said " We are delighted to welcome JS Agriculture Limited to Gatwick Airport and look forward to building a strong relationship with the team" Contact john.straka@jsagriculture.com.