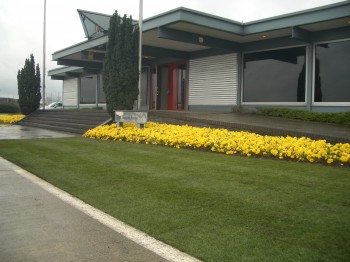 JS Agriculture have completed re-turfing 4 x grass areas heavily worn through both pedestrian and vehicular traffic at the Royal Suite at Heathrow Airport. The wroks carried out on approx. 300sq.m of grass inviolved stripping the existing grass, rotovating and levelling, fertilising and laying new Rolawn Medallion turf.
The works were carried out between aircraft movements at the Royal Suite with numerous visiting and departing dignitaries casting their eyes over our works.
This picture shows the lawn areas prior to the re-turfing being carried out.